After Ceremony Arrangements
As of October 2022 - Our 'Family and Friends' ceremonies will be organised through our service partners.
Most of the 'Family and Friends' ceremonies we've organised have taken place 4.30p.m. or 5.30p.m. in the afternoon, giving the couple, or the couple and their guests time to either return to their hotel to relax and refresh, or stay at the hotel venue (or other) of their choice to have some refreshments. There are also other wedding ceremonies that have been held around 2.30p.m. which were followed by Cocktails and Canapes, then a break before returning to the hotel for a dinner/reception.
For this service, it's recommended that the couple visit Sal before booking the hotel venue, or at least some time before the date of the ceremony so that they know more about the venue and what is, or isn't available. If this isn't possible, then images or useful information can be provided.
After 'Family and Friends' Ceremony Options
- No after ceremony arrangements at the venue to be organised by us.
- Ceremony followed by after ceremony cocktails at the venue organised by us.
- Ceremony followed by after ceremony cocktails and dinner at the venue organised by us.
Alternatively
You may also wish to consider checking out the restaurants in Santa Maria on Trip Advisor and book one of those yourself, before returning to your hotel. Or, casually turn up at a beach bar and enjoy a few beers, wines, soft drinks instead.
There may be further options for a seated buffet, or a sit down meal. We can discuss possibilities with you. Below we have provided a few photos of venues used by some couples after their wedding ceremony on Sal Island.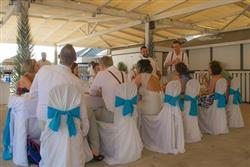 A Buffet Sit Down Meal
Above: Buffet and cocktails for 12 people at after ceremony marriage blessing held at wedding venue on Sal Island, Cape Verde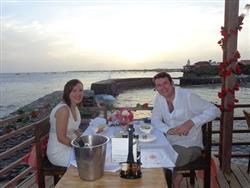 Cocktails and Canapes
One couple enjoy cocktails and canapes on the waters edge after their Love and Devotion reading on Sal Island, Cape Verde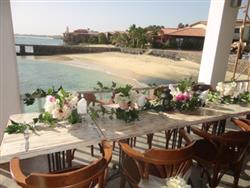 Sit Down Meal
Sit down meal on the beach overlooking the ocean on Sal Island, Cape Verde.
Larger wedding receptions
You may also wish to consider if you would prefer to make your own arrangements with the hotel at which you are staying. One couple did just that, they asked us to arrange a ceremony for them at a hotel venue on the beach in Santa Maria, then they chose to have their reception at the hotel where they were staying, which was up at one of the Melia hotels. They organised the Reception directly with their hotel.
Another couple and their 50 wedding guests from the UK had us organise a beach ceremony in front of one hotel in Santa Maria and a cocktail and canapes service there, then they all returned to their 'All Inclusive Hotel' early teatime to continue celebrations then get ready for dinner and more drinks. This will obviously save on further costs.
This is something you can consider for your 'Friends and Family' service or, after 'Simplicity' service.