Organização Nacional da Diáspora Solidária" in Cape Verde. ONDS is a Foundation created by an initiative of a group of citizens committed to the development of Cape Verde and above all, committed to helping Cape-Verdean society. It is independent of the State or any other political or religious organizations.
Constituted under the terms of the legislation for private associations, ONDS is composed of citizens, companies and institutions whose purpose is to participate in the creation of effective conditions for economical and social development in Cape Verde, aiming essentially at creating jobs for young people.
Here some students attend a class in English and practiced some interview techniques, it was challenging for the students and teacher, but it was fun!
The main objective of ONDS is a constant search for well-being and social balance among Cape-Verdeans both in the country and abroad, so it promotes and guides efforts that contribute to community or individual development projects that will impact on job and wealth creation and, consequently, on improvement in living conditions.
To achieve its goals, ONDS has been promoting individual initiatives that grant to their beneficiaries, freedom of movement and independence in planning their future lives. Amongst others, the foundation has developed activities that have enabled individuals to improve their abilities, namely through:

• Initial technical training, traineeships, seminars, post graduate courses
• Promotion of research
• Accomplishment of projects with multiple effects in national economy
• Accomplishment of projects seeking to develop creativity and finding new vocations
• Initiatives in environmental protection, health, hygiene and security
Useful Intervention:
The intervention of ONDS can assume, among others, the following forms:
• Identifying initiatives aimed at creating jobs and incomes
• Preparation of project documents
• Technical support recruitment
• Professional training
• Recruitment of qualified labour for projects in the country and abroad
• Promotion of Cape-Verdean products at trade fairs and exhibitions
• Sponsoring individual initiatives with positive social impact
• Sponsoring traineeships, initial technical training, seminars and postgraduate courses, appropriate for the national economy.
• Promoting and developing own projects in the country and abroad

How to join ONDS:
ONDS is a Foundation open to all who would like to participate, bearing in mind the principles and purposes for which it was created.
Members of ONDS can be:
• National or foreign citizens
• National or foreign companies, private or public institutions of a non-political or religious nature
New purpose built training facility being built in the heart of Mindelo: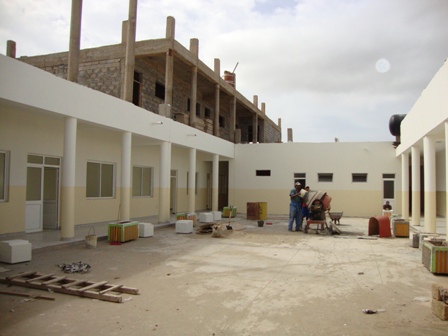 Advantages: Being and ONDS member provides access to a group of facilities, information and opportunities, such as:
• Support in the development of personal initiatives
• Access to job and business opportunities
• Access to professional development programmes or initial training
• Access to means and opportunities to contribute favourably and be supportive for those in need.
Being an ONDS member is, above all, to share experience and knowledge with our fellow citizens and stimulate citizens initiatives, promoting solidarity, job and wealth creation under the umbrella of the organization.
To join ONDS you should:
• Obtain a form from the Executive Secretariat to fill in
• Return it personally by mail, or e-mail
• For further information, please visit the website (Portuguese): http://www.onds.cv
ONDS can be contacted at the following address:
Av.Prof.Alberto Leite
Predio da Papirus, 1 andar,
C.P.no.4
Mindelo,
Sao Vicente
Cabo Verde
Tel: (00238) 232 2425 Fax: (00238) 232 2444
Email: onds_cv@yahoo.com.br